Stanford student project shows public benefit of expunging some criminal convictions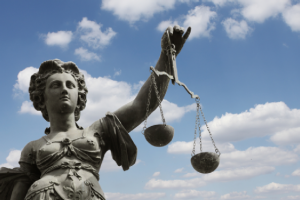 BY CLIFTON B. PARKER
Research from Stanford University students argues that the benefits of expungement – having a judge wipe a criminal conviction from the public records – outweigh the costs.
Under California law, offenders can apply for expungement for most convictions, after completing probation or a local jail sentence. (A stay in state prison remains on the public record.)
The stigma of a criminal record is often enough to discourage an employer from hiring someone, the study noted. Removing that stigma through expungement and making it easier for those offenders to work and pay taxes is good for the community as a whole, the students say.
"Expunging eligible records increases tax revenue and reduces public assistance payments," said Mary Sprague, a senior lecturer in public policy at Stanford.
She supervised five students in a Stanford Public Policy Program practicum who worked with a client, the San Jose State University Record Clearance Project, on their research. Sprague's students analyzed the costs and benefits of expunging records; reviewed policy reports, academic journals and books; and conducted interviews with experts from the Santa Clara County Public Defender Office, the Stanford Law School, the Santa Clara County Re-Entry Resource Center and the Santa Clara County Probation Department.
Their report suggests that California do more to promote awareness of expungement to those who meet the criteria.
"With numbers showing that the benefits of clearing eligible records outweigh costs over time, policymakers may be more inclined to take actions to increase the number of records cleared," said Sprague.
Meyli Chapin, a public policy undergraduate student on the project, described it as "a very complex and interesting project" and a whirlwind experience with a seemingly impossible deadline.
"You are tested in every way you can think of," Chapin said, "and you realize how much you care about the outcome of your project. You also realize that somehow, magically, you will in fact finish it in 10 weeks."
On March 14 in San Jose, Chapin and her fellow students publicly presented their findings to their client, experts and policymakers. In general, the report concluded that expungement is cost-efficient and that a greater awareness of it would make it easier for people with criminal histories to find employment, while reducing costs for governments.
The estimated benefits of expungement outweigh costs by about $5,800 per person in one year. This includes increased income, increased tax revenues and reductions in government assistance, for example.
After the first year, government's expungement costs are zero, but benefits of increased taxes and reduced public assistance continue to accumulate.
"These cumulative net benefits would increase across time," wrote the researchers. "For example, many ex-offenders will continue to have increased income and pay increased taxes over numerous years although the exact amounts are likely to vary across time."
The report recommends that the government take actions to increase the number of eligible records cleared. Many people do not pursue expungement due to lack of awareness or resources, the report pointed out.
However, even if expungement were widely used, the study noted, employers might still find information about job applicants on the Internet through news articles, for example.
The report suggests that government and nonprofits increase funding for programs to help facilitate expungement, and provide more resources to courts and probation offices for processing and hearing cases.
"This process improves the lives of deserving individuals, and it benefits society in the process," Chapin said.
She said the practicum was a perfect opportunity for the students to apply their knowledge and complete a publishable policy report.
"It is truly the culmination of the public policy major in a way no other course could be. It was a chance to think about real world problems and give our own thoughts, to be heard and respected, and to be critically analyzed," Chapin said.
Likewise, Sprague said that the students learned how to work together in teams and apply their training in economics and quantitative methods to an important policy issue.
"They also gained experience in the real world of policy analysis by having to evaluate a policy without complete information," Sprague said.
The Stanford interdisciplinary program in public policy offers undergraduate and master's degree programs.
Media Contact
Mary Sprague, Public Policy Practicum Program: (650) 723-0539, msprague@stanford.edu
Clifton B. Parker, Stanford News Service: (650) 725-0224, cbparker@stanford.edu
Tags: employer, expungement, hiring, NEDC, probation, records, Stanford News Service
---
Posted in Expunging Records